Can't Find a Job? Check Out this List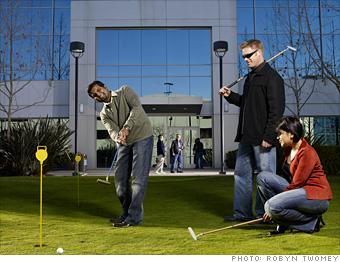 So you can't find a job. Well,
Fortune Magazine
has just released a list of the 100 top companies to work for and many of those companies are actively hiring at this time. The benefits these companies offer are unheard of and they provide such because they want to keep their employees. They remain hungry for those employees they consider to be the best and the brightest.




NetApp replaces Google as the number one company to work for. Rising up from 14 last year, this company actually enjoyed an increase in job growth. The average salary employee makes is over $133,000 and the typical hourly employee make over $80,000 (the example was an "executive assistant"). The company provides a fitness center, compressed work week, five paid days for volunteer work, and telecommuting.


Edward Jones bucks a trend among Wall Street firms, rising to number 2 from number 4 last year. Average salaried employees make well over $70,00 and hourly employees make well over $30,000. The company offers paid sabbaticals, subsidized gym membership, and telecommuting.


The Boston Consulting Group rose from number 11 to 3 in the last year. Again, this company enjoyed job growth and the average salaried employee makes over $140,000 a year, while hourly employees make over $60,000. Hundred percent health coverage, paid sabbaticals, and a compressed workweek are among the reasons this company is so highly rated.


Dropping from number 1 is Google, which has been forced to drop some of the things that has made its work place famous, but is still considered one of the best companies in the country to work for. There was no provision by Google as far as salaries go, but the company is famous for its onsite childcare, onsite fitness center, telecommuting, and more.


Wegmans Food Mart chimes in at number five (dropping from number 3). It is unusual for a grocery store to land in such a high position. The employee incomes are among the highest in the industry, with salaried employees making over $50,000 a year and hourly income employees making close to $30,00, on average. Compressed work weeks and job sharing are among the unique characteristics of this company.


Cisco Systems stays the same rank as last year. Income for employees are very high, with salaried employees making over $130,000 a year and hourly ones enjoying close to $60,000 on average (the latter being for an Administrative Assistant). Onsite child care, onsite fitness center, and telecommuting are among the reasons it is in the top ten.

Genetech drops from number 5, but still maintains among the best work environments in a country (biotech) that has been hit fairly hard. Employees enjoy high incomes (over $112,000 for salaried and close to $70,000 for hourly), plus paid sabbaticals, onsite childcare, telecommuting and much more.

Methodist Hospital System. Methodist (up from ten) is part of the largest medical center in the world (Houston, Texas) and a leader in offering excellent jobs. The gap between salaried and hourly incomes is surprisingly small with the former making over $88,000 and the later making over $80,000. Furthermore, the company offers an excellent onsite fitness facility, job sharing, and a compressed work week.


Goldman Sachs turns up at nine (the same as last year) in spite of being a part of all the turmoil that hit Wall Street in September. The company did not provide information on hourly wages, but salaried employees make over $140,000 a year. Onsite childcare, compressed work week, and job sharing are among the reasons people love to work here.


Nugget Market (rose up from 12), rounds up the list at number 10. This grocery store offers very high incomes of over $116,000 for those on salary and well over $30,000 for those being paid hourly. One hundred percent health care coverage makes this company unique in an industry not noted for its benefits.

It is good to know that, even in a weak economy like the one we are in, that there are still excellent companies trying to make work a great place to go to.
Kevin Price is a syndicated columnist whose articles frequently appear at ChicagoSunTimes.com, Reuters.com, USAToday.com, and other national media. Kevin Price is Host of the Price of Business (M-F at 11 AM on CNN 650) and Publisher of the Houston Business Review. Hear the show live and online at PriceofBusiness.com. Visit the archive of past shows here.
Labels: Boston Consulting, Cisco Systems, Edward Jones, Fortune Magazine, Genetech, Google, Methodist Hospital, NetApp, top 100 employers, Wegmans